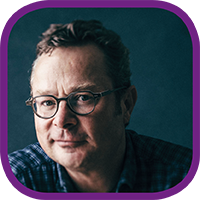 Hugh Fearnley-Whittingstall
Keynote Address - Tuesday 19 November
Hugh Fearnley-Whittingstall is a multi-award-winning writer and broadcaster known for his uncompromising commitment to seasonal, ethically produced food and his concern for the environment. He has earned a huge following through his River Cottage TV series and books, as well as campaigning documentary series such as Hugh's Fish Fight, Hugh's War on Waste, Britain's Fat Fight and, his latest, War on Plastic with Hugh and Anita.

Hugh established River Cottage HQ in Dorset in 2004, and the operation is now based at Park Farm near Axminster in Devon. An organic smallholding, HQ is also the hub for a broad range of courses and events, and home to the River Cottage Cookery School. Hugh continues to teach and host events there on a regular basis. He also oversees the menu and sourcing in the River Cottage Kitchens - restaurants in Axminster, Bristol and Winchester

Hugh's broadcasting has earned him a BAFTA as well as awards from Radio 4, The Observer and the Guild of Food Writers. His award-winning books include The River Cottage Cookbook (2001), which won the Glenfiddich Trophy, the River Cottage Meat Book, which won the Andre Simon Award in the UK as well as the James Beard Award in the US, and River Cottage Veg Every Day, which is the UK's best selling vegetarian cook book. Hugh's latest book is River Cottage Much More Veg.
Hugh continues to work as a journalist, writing occasionally for the Guardian, Times and other national newspapers. He is a vice president of Fauna and Flora International and a patron of Switchback, a charity that helps young offenders find opportunities in the catering industry.

Hugh, his wife Marie and their four children divide their time between East Devon and Bristol.
Photo credit: Matt Austin