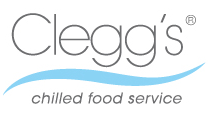 Clegg's Chilled Food Service
Stand Number:
38
As the North's leading suppliers of chilled and ambient foods, we specialise in Cheeses, cooked meats, bacon, fats, sandwich fillers, fruit juices, milk drinks, yogurts and canned goods.
We offer a minimum twice weekly deliveries throughout the North of England. At Clegg's we are proud to supply a wide range of catering supplies from our Preston depot to public sector contracts, these include – hospitals, schools, colleges and universities. We also supply and wholesale to wholesale. We pride ourselves on our providing quality products with a first class service giving our customers a one-stop shop for chilled and ambient foods.
We have recently launched a range of blended grated catering cheeses, these are extremely popular cost saving option in the foodservice industry. The success of these products is due to their quality and consistency. They all offer a fuller flavour and have the same melting properties as cheddar cheese in the grated blends and stringy mozzarella in the pizza top.
These products comes from years of experience and expertise of sourcing quality products that also save money for the Food Service industry.
The cheese is grated from full blocks giving a quality full length grate that provides consistency order after order.

www.markclegg.co.uk