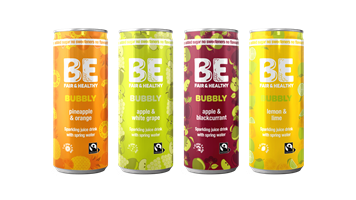 BE Fair & Healthy Drinks
Stand Number:
22
INTRODUCING BE BUBBLY! The brand-new drinks with sparkling credentials!
Lightly sparkling 250ml slim canned drinks

BE DRINKS was founded in the South of England in 2019. BE Bubbly was born when I couldn't find a natural, ethical, tasty and refreshing drink when out and about! So I set about making my own and BE BUBBLY was born! Because BE BUBBLY is completely natural with 60% fruit juice, 40% Spring water and absolutely nothing else added; Not only is it deliciously fruity and refreshing but also happens to be

School compliant and CQUIN compliant as well as containing one of your five a day with less than 79 Kcals per can.

We have 2 flavours available this year Apple and Blackcurrant and Lemon and Lime with 2 more exciting flavours arriving next year.

BE Bubbly is Fairtrade Certified as I am passionate supported of Fairtrade. By buying Fairtrade products you are driving demand ensuring Fairtrade farmers in developing countries have the opportunity to sell their produce at a fair price that allows them and their employees to have a good standard of living, decent working conditions and use sustainable farming methods which are better for the environment too.
If you would like to find out more contact me at jemma@bedrinks.co.uk
Tel 07956785816 or visit www.bedrinks.co.uk
www.bedrinks.co.uk/